Welcome to the February edition of the All-About-Juicing.com's newsletter.

Now that we are into 2011 and definitely well past the holiday's tempting food- many of us are getting back on track. Juicing is a great way to shed a few pounds! Here are some ideas!
---
CONTENTS
---
Shedding the pounds
I firmly believe there is no better way to lose weight then having great nutrition. Juicing satisfies a healthy way to lose because you are reducing calories while not depriving your body of any nutritional needs.

About 10+ years ago I was overweight. My whole family did the Weight Watchers plan and I was able to get down to a healthy size. I thought it was a great plan except for the fact that I still ate food that wasn't so great.

Until I discovered juicing as a way to maintain my weight, it was always hard for me to lose. When I feel like I'm gaining a few pounds I make sure to juice for one meal a day or when I'm hungry. And I can easily get down to my regular weight again. Because juicing is cleansing and nourishing, it will aid your body in reducing your weight. It also helps keep you full… If I had known about juicing back then, I think I would have had an easier time losing weight!


Get the easy plan to jucing for weight loss here

Or, if you are not into juicing the whole weekend, you can use juices to replace one meal of the day. This has always worked well for me! The best time of day to replace a meal with juice is breakfast because your body digests fruit and juice best when there is nothing in it. Some juices help aid in weight loss betther then others....


Find good juices for weight loss here


---
Curb your sweet tooth with these healthy treats
Have you ever made fruit leathers and sorbet with your juicer? Super YUM!
Juicer Sorbet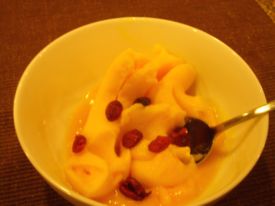 I love to use my juicer for other things then just juicing. It's quite a versatile machine. As many of you might have picked up from my site, I have a Champion Juicer. I often make sorbet with it. I recently made a page (with pics) on how to make a simple peach sorbet. All you need is frozen fruit and a gear juicer. You must try it out! See me make a peach sorbet and learn how to make your own here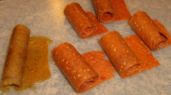 Fruit Leathers
Another exciting thing you can do with your juicer is fruit leathers. I recently splurged and bought myself an Excalibur dehydrator. I quickly realized that I could use the juicer to homogenize the fruit into a puree for fruit rolls. I've made a raspberry peach fruit roll to demonstrate, and included lots of pics!
Learn how to make own fruit leathers with your juicer here



---
Juice of the month
This month's juice is:
Pineapple - Kiwi
Every week in my co-ops produce box I receive a pineapple. I actually hardly juice them! I usually prefer them as a fruit snack or in my breakfast granola. This week though, I thought that I would juice it. Because pineapples contain a high water content, it juices beautifully. The added kiwi makes a tropical treat.
Adding some coconut milk to the finished product makes it even more decedent and island-y.
½ pineapple (about 3-4 rings- core removed and skin cut off)
2 kiwi (skin peeled)
Juice the two together and drink! It's a little sweet but I love it! I had to share it with you.
---
Your questions answered
This months question comes from Sandy in Maryland.
Q: "Will the banana whip recipes you provide keep fresh in the freezer or fridge?"
A: Unfortunately, the banana whips are best eaten immediately. They will probably keep OK in the freezer for a few hours, but after time it will lose its texture and either melt or freeze(and then it doesn't taste as good). It's just one of those things… If you are looking for a healthy ice cream treat, try sorbet pops that you can easily make with your juicer.


Do you have questions related to juicing?
---
Do you know of any good juice bars?
Do you have a favorite juice bar or juicing retreat you'd like to share? I've created a page that will help us all know where to go to get some fresh juice!
Please add your favorite juice bar here




Keep juicing my juice lovers!
Cheers!
Vanessa
www.all-about-juicing.com




Have your say about what you just read! Leave a comment in the box below.