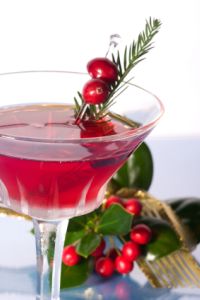 Welcome to All-About-Juicing.com's newsletter.

The holidays are in full swing where I live, and I love it. It's the time of year to celebrate so many things, and the time to enjoy decorating, cooking and each other. It's also a great time to juice for friends and family. So pull out your favorite juicing book (or get some of our taste tested combos) and juice away this holiday season!
---
Contents
---
Holiday Juice Recipes
Juicing for Christmas and New Years?
The opportunity to sneak in some juice-y drinks are plentiful this season. A red or green colored juice for brunch on Christmas Eve, or a champagne and juice toast on New Years can be so festive, unique and fun.
Try out these Christmas juice recipes to add to the festivities...

And here are some New Year's juice recipe ideas to spice it up a bit.

And what about some Green juice recipes for the festive color (and detox properties)?
Holiday Gifts
You still have a few days to order juicers, juicing books, smoothie books and other kitchen accessories online. Amazon.com has some great deals to take advantage of, and lots of free shipping offers.

I enjoy Amazon for its selection, free shipping, deals and so I don't have to go into the crowded stores.
Check them out if you are in a pinch for gifts
The Vitamix as a gift
I know that most of you know how I feel about the Vitamix…I am obsessed with it. So I have to remind you, it makes an AWESOME gift for someone you love. Its perfect for both the health nut and the regular every day cook. It can make pulpy juice, delicious smoothies, healthy soups and dips really quickly. Its 1380 watts of power and has a great warrenty..its what the top chefs use, and if you have one, you know why. This power packed machine does not mess around.
Read more about using the Vitamix for juicing here


---
A Great Read: Ultimate Juicing: Delicious Recipes for over 125 of the Best Fruit and Juice Combinations by Donna Rodnitzky
You'll like this book if you want some new juice recipes to inspire you. Tested for some of the best combos, these really do make a good glass of juice. This happens to be a great accompaniment to a juicer gift or as a large stocking stuffer. The writer has a bit of humor, so it's not only a fun juice book, its a great recipe book you'll keep for a lifetime.
You can get this for a good deal through Amazon (link below).

Ultimate Juicing by Donna Rodnitzky
If you'd like to see a list of my other favorite juicing books, go to the best juicing books
---
Juice of the month
This month's juice is:
New Years Juicy Cocktail
Ingredients:

Half a glass of champagne (or more if you'd like)
Freshly juiced pomegranate, 2 tablespoons
Directions:

Pour your favorite champagne into a nice glass. Pour the pomegranate juice into the glass and serve. The tang of the pomegranate makes a great accompaniment to the bubbly! (its also antioxidant packed, so at least you feel better about drinking!)
Note: POM Wonderful is now selling fresh arils in the grocery stores. If you use these you can make juicing a really quick step, since you can avoid peeling the whole pomegranate. You could also buy bottled pomegranate, but we all know….store bought juice is never as good as fresh squeezed!
If you have a juicing recipe to share, please do. I created a page so that everyone can submit thier recipes directly on the site. I want it to be a community site where everyone can share!
---
Your questions answered
Q: What are great juices for teenagers?
A: Certainly, I have some for you! :) Juicing for teenagers is such a great idea…it will help balance out hormones and since they are still growing, and will give them the nutrition they need to develop a healthy body naturally.
Better then a multi-vitamin any day!
Here are some of my favorite juice recipes for teenagers:
1) Apple Carrot: 4 apples, 4 long carrots.
2) Grape Strawberry: This one has a higher sugar content, but is so good tasting, I'd be surprised if many teens didn't like this. 2 large handfuls of red grapes, and about a pound of strawberries (tops okay).
3) Orange: Straight up orange gives vitamin C and calcium, and you can't go wrong with that. 6-7 oranges, peeled.
4) Green Apple: This one is green, but just call it green apple and they might miss the rest of the ingredients they otherwise might turn their nose up too. 2-3 green apples, 2 stalks of celery, ½ a lemon (peel okay), a leaf of kale, and a teeny, tiny knob of ginger (very tiny! Its strong!)
Breakfast or mid-day snacks are a great way to include them in the diet. Congrats on wanting to help out a teens nutrition!


Do you have questions related to juicing?
---
Do you know of any good juice bars?
I'm still looking! Do you have a favorite juice bar or juicing retreat you'd like to share? I've created a page that will help us all know where to go to get some fresh juice! Pretty please :)


Please add your favorite juice bar here
Do you have a good juice recipe?
If you have a juicing recipe to share, please do. I created a page so that everyone can submit thier recipes directly on the site. I want it to be a community site where everyone can share!

Keep juicing my juice lovers!
Cheers!
Vanessa
Have your say about what you just read! Leave a comment in the box below.