Natural Juice Soda and Fizzy Drinks
Sometimes we need juice soda...something just a little bit different….and if you've given up regular bad soda like I have, well, sometimes you like the thought of a little bit of bubbly bliss...
Here's how you make natural soda, or sparkling juice, if you will.
It's easy, it's fun and it's absolutely delightful…In just two easy steps.
How to make your own natural fizzy, soda juice drink:

Step 1: Juice any of your favorite juice drink. While vegetables can work, a fruit juice seems to work the best and be more appropriate for this type of drink.
Step 2: Add mineral water, water with gas, seltzer water, whatever type of water that you'd like that has a little fizzy.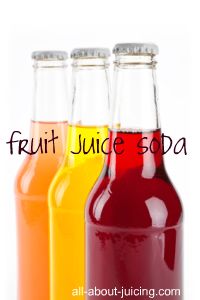 Tips:
Typically…1:1 ratio (1/2 cup to juice to ½ cup of seltzer) works best but less is good too.

Fruit juice works best…and citrus is unbelievable!
Because of the nature of soda water, it will go flat within an hour. These are drinks that need to be made and drunk right away.

For a party, anyone? The best and most impressive use of a natural soda is when making a special drink for a guest or for parties. You'll have to make them individually, but you could juice beforehand, and just add the juice and mineral water to your cups as you make the drinks.

I also find these make the best summer-at-the-pool drink. It makes a fun and delicious way to hydrate.

The Natural Soda Recipes:
The directions are the same…juice the fruit, add the ingredients together in a large glass and swirl with a spoon. Drink immediately or the fizzy won't last!

Related pages
Juicing for Beginners
Top 15 of the Best Fruits and Vegetables to Juice
All Juicer Recipes: Fruit Juice, Citrus Juice, Green Juice, Vegetable Juice, Banana Whips, Soups
Return from Juice Soda to Juicing Recipes