Learn my secret to beauty + energy.  Get 50 simple green drink recipes to nourish your body and rock your taste buds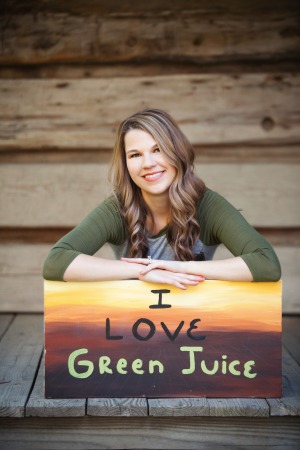 Let's get straight to the juicy facts.
1.  Thanks to unhealthy foods and over stuffed schedules, most of us are walking around with a nutrient deficiency of some kind. It's wreaking havoc on our bodies and overall well-being.
2.  Green drinks are the #1 way to squeeze much-needed missing proteins, vitamins, and minerals back into our diets. As a result, our energy skyrockets, we sleep better, and feel great after our workouts… or just a day at the office.
3.  They help us shed toxins, and give us a butt-kicking daily boost that puts less-healthy stimulants like caffeine to shame.
4.  Green = clean. A clean body drops pounds quickly and easily, and fights signs of aging by keeping our system alkalized.
5. Upping our intake of nutrient-dense greens like kale and spinach increases and oxygenates our red blood cells. Translation? They lower our risk of disease and health problems.
But, you know some of this already, right?
Maybe you dabble in juicing, or love your fruit smoothies.  Still, something's holding you back from really going green.
If any of these sound familiar...
"I know I should eat more greens. I just can't stand the way they taste!"
"I'd love to try green juices/smoothies, but I don't know where to start."
"I've tried recipes, but none of them really jived with me."
… You're exactly where you need to be!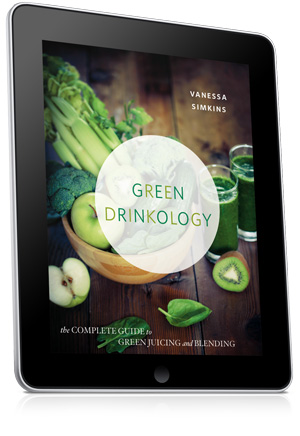 Introducing: Green Drinkology.  The complete guide to green juicing and blending.
This is the easiest, tastiest way to infuse your body with all the veggie goodness it's been missing.
But your taste buds aren't deceiving you. Greens don't have such a fab flavor on their own. The secret lies in the produce you combine it with!
For the last 13 years, I've been whipping up juices and smoothies, and studying the nutrient profiles of a huge range of ingredients. I know what it takes to make a power-packed green drink you'll actually want to sip on every morning!
That's why I compiled all my most delectable green recipes and tips into this one-stop guide. It's packed with everything you need to know about the leafy green combos that fuel your body, and taste absolutely fabulous.
I've broke it all down into simple, step-by-step instructions. All you have to do is buy the produce, juice or blend, and soak up all the perks of living green!
This is great information on juicing greens.  I've been doing it for a few months now and I feel great!  Sandra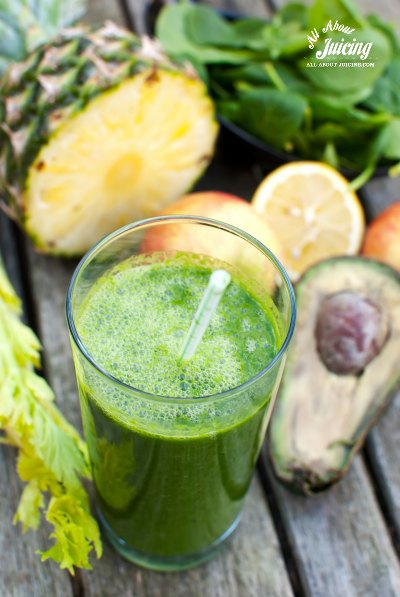 Here's what I've mixed into Green Drinkology
The 411

on why greens are important

, and the reasons why you should be drinking them

25 stress-free green juice recipes

 you can toss into your juicer 

today

25 easy & yummy green

smoothie recipes

that work with any blender

Your

must-know tips to make the most

of juicing these delicious veggies

The

DO's and DON'Ts

of green-drinkology (including the reasons why you

shouldn't

drink the same thing over and over)

How to

properly combine vegetables

, so you can squeeze out every possible nutrients and flavors

The

best greens for smoothies, and the best for green juice

(yep, they're different!)

Helpful

hints for incorporating more

green drinks into your diet

Recipe cards you can print out, cut out,

and use in your kitchen.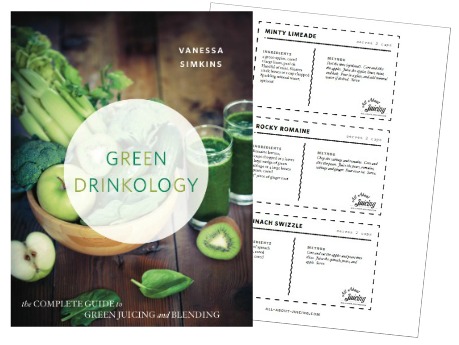 You won't find these body-revamping recipes anywhere else. They're straight from my personal notebooks; so you know they're mouth-watering, and packed essential nutrients.
It's time to put down the coffee, and pick up some produce.
Trust me on this - your body will thank you (and so will your mirror!)
You ready?
I cured my type 2 diabetes with green juices.  Doctors told me I will have it for life but I proved them wrong.  No more insulin and Metformin for me.  Now I'm working on getting off blood pressure meds too.  I always start my day with a green juice and make 2 or 3 more as I feel like it throughout the day.  Sometimes I don't even want solid food, just juices.  I listen to my body.  I am also shedding weight fast.  Eva

A few of my favorite recipes inside...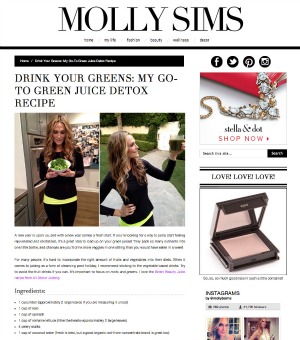 Green Beauty Juice - An all-time favorite of mine.  Molly Sims digs it too.
Lovely Limeade - This was shared over 2,000 times when I posted it on Facebook. Yep, it's that good.
Rocky Romaine - Thought lettuce was only for salads? Wait. Until. You. Try. This.
Spinach Swizzle - This juice is a traditional constipation remedy that's always done wonders for me, and everyone I recommend it to. Your engine room will be back in working order in no time!
Green Aces - One of my most popular weight loss juices, this magic mix will help your body combat fat with just the right combination of proteins, vitamins, and minerals.
"Green juicing has always been my interest, but it seemed overwhelming until Green Drinkology.   Your guide is comprehensive, informative, and you have answered my questions on how to use a wide variety of greens for optimum results.  You make it so easy!  I don't remember how I found you, but I know it was a blessing, and I can't thank you enough for all you do to help us succeed.  You are my inspiration, my support, and my juicing go-to maven."  Barbara
Completely digital and instantly downloadable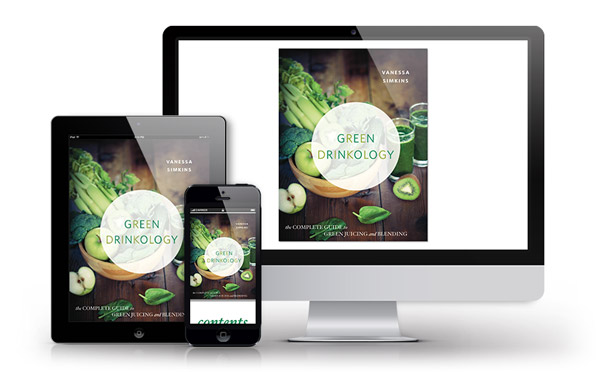 In a matter of minutes, you'll have my top green advice + all 50 of my best green juice and smoothie recipes at your fingertips (and printable recipe cards for your kitchen).
Enough scouring the web for good green drinks you actually like. This is the last recipe book you'll ever need.
Let's get green!
Love + Juice,

The Juicing Mixologist™
Transform your body through green drinks.  Choose your favorite package below to GO GREEN!



Your satisfaction is 100% guaranteed. If you aren't happy, please email us within 15 days of purchase.  Green Drinkology and the UTS system are digital products.  You will be emailed a link to the products.


What other juice lovers say...
I started juicing last year after feeling tired of being tired all the time and in a lot of general pain. I've been on anti-depressants on and off (mostly on) for 15 years. A week into juicing, I realized I hadn't taken any medications for pain, anxiety, and depression. Accidentally, of course. No one should stop taking meds without consulting their doc! I went in to my doc and he okayed me to continue without since I had a pretty good handle on monitoring myself. 15 years, remember! So since starting juicing, no more meds, loads of energy, and feeling like a new person! Yay juice!  Charlene
Thank you so much for all the great info here. I've been juicing since Christmas, and I've lost 15lbs and feel great. You help us keep it going with the great recipes and ideas. We have also started eating more healthy foods as a result of having the fruits and veggies around. The reason I started looking at juicing is because of my migraine/vertigo issues. Since starting to juice, I've not had a single instance of vertigo and I feel better than ever. Jon
"I feel like juicing daily is saving my life.  I love bringing home a bag full of greens and small amount of fruit knowing that I will be drinking them instead of trying to eat it all before they go bad.  I do feel a bounce in my step and am amazed that I've gone so long without juicing daily.  I am definitely a newbie to this and am never going back to my old unhealthy habits.  Thanks for helping me get educated and super healthy!  Here's to juicing for life!!"  Jennifer