Free Subscription to the I Love Juicing Newsletter + Juicing Recipe e-book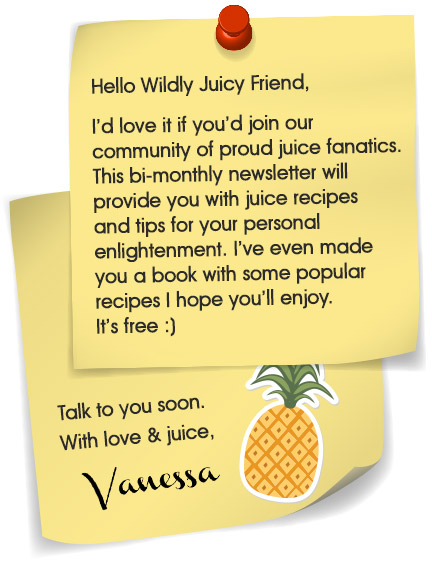 Get all the juicy info on...
The best recipes

Great juicers

Nutrition and benefits of specific fruits and vegetables

Answers to questions submitted by others like you

Juicing tips and advice

Insider info...there are special things just for my insiders


I Juicing is a free juicing e-newsletter created for my peeps with a JUICY SIDE!
I try to go beyond just juicing, and give you creative ways to use your juicer, including lots of new recipes every few weeks.  You just might be amazed at what you can do with juicing!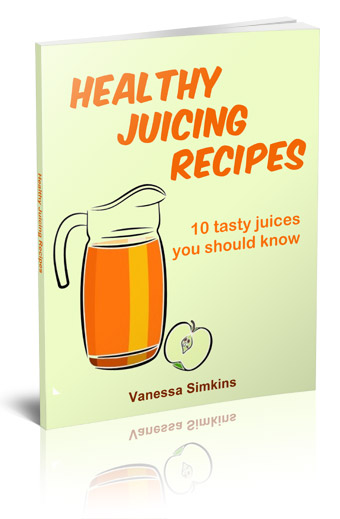 Free Juicing Recipes book
Yes, that's right!  Get Healthy Juicing Recipes: 10 tasty juices you should know, instantly!  How's that for a good day?!

Your email address will never be shared with anyone -- promise! And you can cancel your subscription at any time with just the click of your mouse. 

Sign up today for "I Juicing", delivering good-to-know extras about juicing.
Some comments from you....(thanks! :)
"This is a great newsletter! Straight to the point and well organized. I love that you give the health benefits of each and juicing tips."
-Nicole
"WOW, Vanessa! Your site is full of good info, organized and linked up well. I totally love all the creative ideas and help with body cleansing. Please, keep it up!"
--Mandy from Seattle, Washington

"I found your site when I was just a beginner juicer. With your help, I'm now juicing every day and have healed some of my ailments. All the thanks in the world."
--Kylie from Austin, Texas
I really think that it is very useful website and I find it very interesting information for me. Actually I already have bookmarked it.
Your Bulgarian Friend,
--Stefan Gronev

" I love your newsletters, Keep them coming!"
-Sydney, Idaho
Now, let's get juicing!
Juicer guide
Vegetable juicing info
Fruit juicing info
Fruit juice recipes
Juice detoxing