Veggielicious vegetable juice recipes. Tasty, I promise.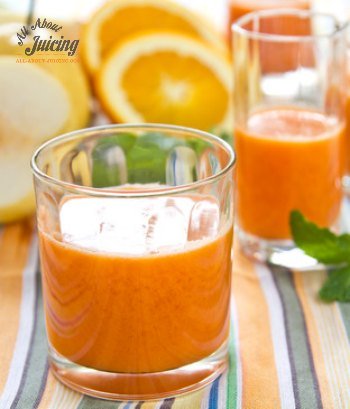 I know, I know, vegetable juice recipes? Really? Yes! Really! Try some of these kitchen tested combos and I think you'll be pleasantly surprised!

Vegetable juicing with the recipes below is very healthy. The picture below is carrot-apple juice, made by juicing 3 apples and 2 carrots. It is one of my favorites. Mixing in apple and some fruit with vegetables typically make a very palatable juice, making veggies that you don't like unnoticeable in the drink.
You will notice many of my recipes are basic. That is because I believe there is no need to be complicated in the world of food. Simple, often times, tastes better! Very true for juice!
Also, I am not an exact-recipe-girl. If you need more juice, add more veggies. If you need less, modify the recipe accordingly!
Wondering what you could add to your vegetable juice recipes to make it even more nutritious?
How about adding some natural additives to your juice recipes
Carrot Tomato Celery Juice
3 Carrots 
2 Tomatoes
2-3 Celery Ribs

Juice the carrots, tomatos and celery together. Serve immediately. A classic in our collection of vegetable juice recipes.
Tomato Juice
4 Tomatoes (Roma are firmer and work the best)

Cut the tomatoes into wedges and feed through your juicer. Serve. 
Use tomato juice to make your own tomato soup. Mixing in some celery and a little carrot and parsley make a great tomato cocktail. I particulary enjoy this after work if I don't feel like eating dinner right away (or at all). 
Carrot Juice
7-9 long carrots


Carrot Juice is suprisingly sweet, has lots of vitamin A. Yes- it's true, great for your eyes and skin! You can add it to almost any of your own vegetable juice recipes, as it is extremely versatile. 
Sweet Kale Asparagus 
2 Oranges
3 Kale leaves
1/2 cup Spinach
4 stalks of Asparagus

Peel the oranges and juice them with the kale, spinach and asparagus. Serve immediately. 
Like all leafy greens kale has an amazing amount of chlorophyll, vitamin A and C. Asparagus has a lot of vitamin E (along with others, of course), and spinach has calcium and vitamin E. Needless to say, this will be good for your skin as well as getting in a good dose of nutrients for the day. 
Broccoli Cabbage Cauliflower 
1 Stalk of Broccoli
Quarter head of Cabbage
Quarter head of Cauliflower
2 Kale leaves
1/2 Lemon, peel ok
2 Apples

Core the apples and cut a lemon in half. Prepare the cabbage and cauliflower. Juice the broccoli, cabbage, cauliflower, kale lemon and apples together. Serve.
 
What a way to get all those nutrients in a glass, eh? Cruciferous vegetables are rich in endoles, the cancer preventative chemicals. 
Spinach Watercress Juice
3 sprigs of Parsley
1 handful of Spinach
1 handful of Watercress
3 apples

Core the apples. Juice the apples plus all the greens together and serve. This is a great blood cleanser! 
Spinach Carrot Combo
1 handful of Spinach
6 Carrots

Cut tops of of the carrots if necessary. Juice the spinach and carrots together. Serve. 
This is an alkalizing digestive juice. 
Carrot Beet Juice

1/2 Beet (some of the are greens ok if you want)
6 Carrots

Juice the carrots with the beets and serve. 
Pineapple Celery Juice

2 Pineapple rounds
4 stalks of celery

Core a pineapple and remove the rind. Cut the celery into 3 inch pieces  Take two 1 inch rounds of the pineapple and juice it with the celery. Serve. 
Cucumber Tomato Juice
1 cucumber
1 tomato
1 garlic clove, peeled

Cut the cucumber in fours. Cut the tomato in half. Peel the garlic. Juice together and serve immediately. 
What's Your Vegetable Juicing Recipe?
Share it here!
Other Visitors Favorite Recipes
Click below to see contributions from other visitors to this page...

Return from Vegetable Juice Recipes to Juicing Recipes