Review juicers to find the right one
Review juicers by evaluating the 4 types of machines. The Manual, Centrifugals, Twin Gears and Single Gears.  While centrifugals are quite good, nothing compares to the technology of the single and twin gear models.
These links below will take you through thier engineering design and technology, and lead you to review specific models of those type of juicing machines.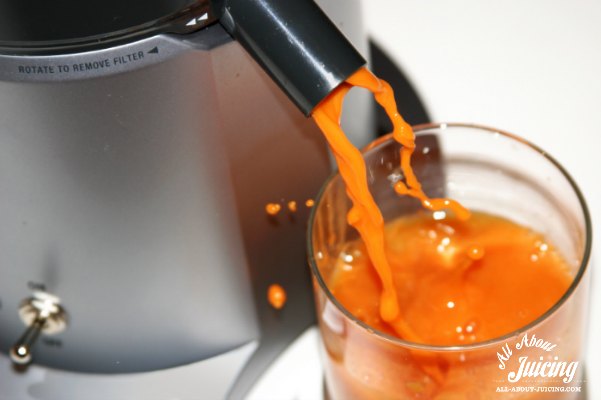 You'll want to review juicers of all types before you decide on the perfect one to fit your lifestyle and budget. I've also included information on the Vitamix juicer as it can function as a good juicer.  
Don't worry about finding the right juicer too much.  Most people go through one or two before they find thier juicer "love."  I've grown close to some models and have a few favorites which you'll learn about below.
The Best Juicers  While I do like all of the models I featured on this site, this is my top juicer list, why and where to get them.  This is your easy bet for finding one without so much research :)  
Manual Juicers  These are hand operated and are only can be used for citrus or wheatgrass. Their functionality is limited but good for small juicing jobs of this type. 
Single Gears  Also called a masticating, single gears have an auger that cuts and crushes the produce for optimum nutrition. It also has great versatility to make baby food, nut butters, ice creams, and some even pasta. They are durable and also an affordable option for their high juice yield and functionality.
Centrifugal Juicers  These use a centrifuge (spinning) technique to extract the liquid from the produce. They are the most common on the market, many times the most inexpensive. They are less versatile then gear juicers and tend to have a shorter life span.
Twin Gear Juicers  Triturating twin gears are known to be the absolute best. It has two gears that crush the produce at low speeds for the best output possible. They tend to be on the more expensive side, but are worth it if you want the most nutrition and versatility. They juice hard and soft produce well, including wheatgrass (some single gears cannot do this well). They all have the ability to homogenize to make nut butters, baby food, ice cream, pastas and more.
The Vitamix  The Vitamix is not a juicer, but can be used as one. It juices by mixing the pulp with the liquid so you're getting the whole vegetable and its fiber. While there are positives and negatives to this, it's a great option if you'd like to juice but want something more versatile to have for a lifetime. Find out what it can do, get free shipping and info on refurbished models.
Wheatgrass Juicers  Are you looking for a wheatgrass-only juicer? Most single gear and twin gears can do the job, however, it's nice to have a stand alone model if you juice wheatgrass a lot.
Hydraulic Press Juicers  These juicers use a triturating then hydraulic press method.  Pricey but a very good method.  Juicers that fall in this cateogory include the famous Norwalk brand.
Look at juicers further with this buying guide  When you're ready, this might help you make the decision easier buy walking you through whats the best fit for your style.
What's your question or comment about juicers?
Share it here.
Questions and comments from others.
Click below to see contributions from other visitors to this page...


Return from Review Juicers to All About Juicing Home