Review of the Omega Juicer
Single gear models (8003/ 8005)

A very popular juicer…but why?
That's right! The Omega Juicer is super popular because it is a very good single gear masticating juicer.
It is designed for the health-conscious who want greater variety from their juicer, it has the ability to juice everything from fruits and vegetables to nut butters. It can also juice wheatgrass and leafy greens well.
It's high quality and super versatile!
What does quality and versatility mean for me in a juicer?
Well, believe it or not, so many things!
Quality means two things:
1) You save money from not having to buy another one for a long, LONG time. Money saved = money in your pocket!
2) It's well designed heavy duty construction produce an outstanding juice. Higher nutrition = better health
The Omega Juicer's high quality design features and how they'll benefit you:
No heat build up/Slow speed RPM = Allows maximum nutrition to remain in the juice (heat kills fresh enzymes!)= better health
High juice yield - with a very dry pulp = Less produce used for a glass of juice. We want to squeeze every drop out of that fruit or veggie! No waste= less money spent
Continuous juicing with automatic pulp ejection = less time juicing
Two juicing screens

for firm and soft produce

= the maximum amount of juice depending on the produce used=more money in your pocket
Built in "reverse" prevents clogging

& no separate attachments needed for multi-use functions

= less time getting frustrated with kitchen appliances :)
Easy to assemble, operate and clean = again, less time to clean and re-assemble for next use= more time for you
Quiet operation = does not disturb your ears with loud noises, the baby's nap or your spouse reading a book…= happy home
Good Size: 15 x 11 1/4" x 7 3/8" = Fits under countertop if you'd like to leave it there= no lugging it out each use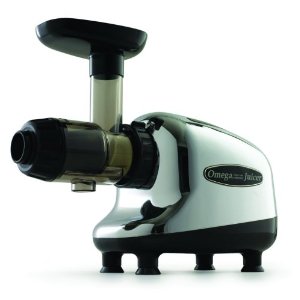 The fact is…
A juicer with this versatility allows you to use this one machine for many kitchen tasks. Using the Omega juicer for many things means time saved to spend with your family or yourself! Time to exercise or read a book!
These are some of the things The Omega Juicer can do:
Baby Foods. Cheaper & healthier for your baby when you make your own.
Fruit, Vegetable & Wheatgrass Juicer. Juicing soft fruits means you can offer yourself and your family more variety. Also, many juicers cannot do wheatgrass. If you currently do juice wheatgrass or there is a possibility that you might down the road you'll have the benefit of knowing you can.
Frozen Dessert Maker (sorbets & banana whips). Super healthy desserts can be made with low or no sugar so that your blood sugar doesn't spike.
Grinding/Mincing/Chopping. Save money by avoiding other kitchen appliances. Many use it to grind meat or dried herbs for storage.
Nut Butters. Fresh nut butters ensure you are making a truly pure butter without sugar or fillers. It offers peace of mind knowing you are putting the best foods into your body when you can make them yourself. This also allows you to make your family a variety of different nut butters.
Pasta Extruder. Making your own varieties saves you money!
Soy Milk Extruder. Soy in the store is pasteurized..you really want to make your own to ensure you are getting pure milk, unaltered.

And that's not all…
You might be aware that they also have various other models that are pretty much the same, but different in color. The 8005 Omega Juicer model is a nice stainless steel/black. The 8003 juicer is a white. If you care about the juicer matching with your kitchen décor, you have the option of colors.
One things for sure…
The Omega brand makes decent juicers and you can have confidence in their products. This single gear is a good investment for yourself and your family. It is very versatile allowing you to save time by using one machine for many things. It is a juicer will serve all of your juicing needs and many others, including mincing, grinding, homogenizing.
But most importantly…
The Omega Juicer's RPM's run at a low speed to ensure the maximum amount of enzymes, vitamins and minerals, are captured during the making of your juice.
You won't be disappointed! The peace of mind knowing that you are making the best juice is so important.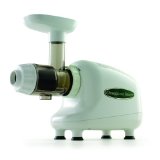 Do you want this juicer for your home? Order The Omega 8003 in White at Amazon
Order The Omega 8005 Juicer in Black & Silver at Amazon
The types of juicers
Info on Centrifugal Juicers
Info on Single Gear Juicers
Info on Twin Gear Juicers
Juicer buying guide
Other single gear juicer reviews
The Champion Juicer
The Samson Juicer
The Hurom Slow Juicer


Return from The Omega Juicer to Review Juicers