Juicing Berries: Strawberries, Blueberries, and Blackberries
Health Benefits of Berries

These fruits have fantastic benefits, all a little different:
Blackberries- Antioxidant. An excellent source of vitamin C and fiber. High levels of potassium, iron, calcium, and manganese.
Blueberries- Anti-diarrhea, antioxidant, anti-bacterial, antiviral. Blueberries contain high concentrations of tannins which kill bacteria and viruses and help prevent bladder infections. High in pectin, vitamin C and potassium.
Strawberries- Effective against kidney stones, gout, rheumatism and arthritis, strawberries are cleansing juices and as a mild tonic for the liver. They are high in cancer fighting ellagic acid and vitamin C. Also a good source of vitamin A, potassium, and iron. Tea from strawberry leaves is used fro diarrhea and dysentery.
For Juicing
Use them immediately upon picking or purchasing. Wash just before using. Do not store long. They can tolerate about a day in the refrigerator. While they are mushy to juice, they do yield a decent amount and taste unbelievable.
Mix pulp in smoothies for extra nutrition. Strawberries blend will with banana in blended drinks like a straw-b-banana- OJ combo!
Juice yield
1 pint (approximately 2 cups) equals about ½ cup - ¾ cups of juice.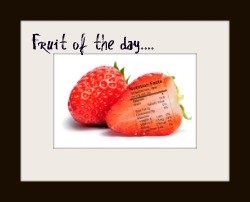 Nutrition Benefits
Vitamins and Minerals
Blackberries- Rich in beta-carotene, C, E, small amounts of biotin, B1, B2, B3, B5, B6. Rich in calcium, chlorine, magnesium, phosphorus, potassium, sulphur, sodium, small amounts of copper and iron.
Blueberries- Rich in vitamin B1, B2, B6, C, biotin and folic acid. Minerals include calcium, chromium, magnesium.
Strawberries- Rich in beta-carotene, folic acid, biotin, C, small amounts of B1, B2, B3, B5, B6, E. Rich in calcium, chlorine, magnesium, phosphorus, potassium, sodium, sulphur, small amounts of copper, iron and zinc.
Juicing other fruits...
Grapes
Cranberries
Cherries
Watermelon
Citrus Fruits
Melons
Fruit juicing
About fruit juicing
Fruit juice recipes
Vegetable juicing
About vegetable juicing
Vegetable juice recipes


Return from Benefits of Berries to Juicing Guide