Cinnamon Spice Nightcap Juice Recipe
I believe good habits are essential for a happy, healthy life :)
I have some nighttime habits and one important one is not eating late.
Generally, I try to not eat within 3 hours of bedtime.  It's a great amount of time to halt your eating in order to let your body digest its food.  Eating too late can disturb your sleep cycles and it never feels good to go to bed on a heavy stomach.   
I find I sleep better this way and wake up feeling lighter.  I often have tea at night if I feel like I really want something.
Sometimes, though, I really like a little nightcap juice after dinner.  
This Cinnamon Spice Nightcap Juice recipe is fabulous for a nice, calm night.  The ingredients are low sugar and encourage good sleep and have calming properties -  and it tastes great!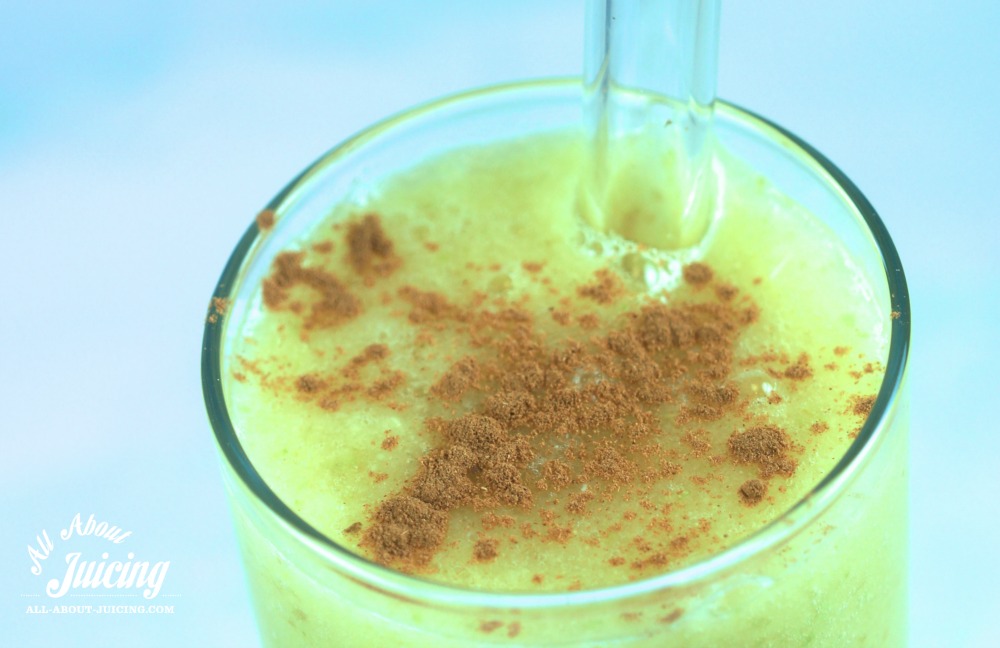 The juice ingredients & benefits
APPLE  Apples have many vitamins, antioxidants and minerals including B vitamins which can reduce stress and help you sleep by promoting the release of serotonin.
CELERY  Celery juice is high in organic sodium.  It's a great way to replace the water you lose during the day or if you are active.  It also has very calming properties in its oils to help calm any nervous tension you may have - making it perfect for night.
CUCUMBER  Cucumbers have a lot of water so they help to regulate body temperature by carrying vitamins to the cells and carrying waste from the cells.
KALE  Kale has a good amount of potassium.  Potassium serves as an electrolyte and transmits electrical signals in your body which help to maintain a regular heart beat and nerve transmissions that promote relaxation and sleep.
CINNAMON  Cinnamon is great for your blood sugar and insulin regulation, as well as circulation.  Regulating insulin is important for overall heath, including good sleep, weight loss and blood.
The Cinnamon Spice Nightcap Juice Recipe
Serves 1 | This makes enough for one small glass (6 - 8 ounces)
INGREDIENTS
1 apple
2 kale leaves
1/2 large cucumber or 1 small cucumber
3 celery stalks
1 tsp cinnamon
DIRECTIONS
Cut and core the apple.  Cut the cucumber into spears.  Juice the apple, cucumber, celery and kale together. Gently mix in the cinnamon.  Add 1/4 cup of water if you'd like.  Serve immediately.  
Optional variations for the Cinnamon Spice Nightcap Juice Recipe
You can blend this juice by cutting it in half and adding water or coconut water.
Add more leaves of kale or other greens to increase the potassium.  
If you want to make this extra low sugar, only use half an apple and use the whole cucumber.
A pear can be substituted for the apple.