Juicing substitutions list (good for smoothies, too)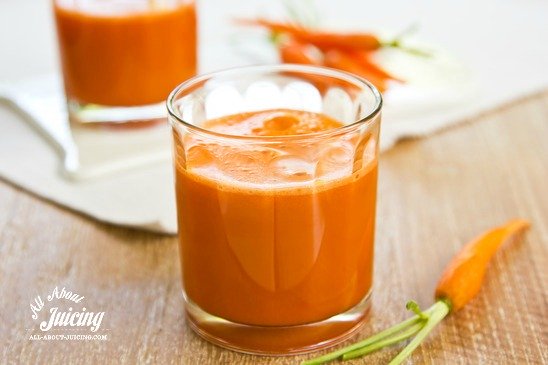 If you're wondering what can you can substitute beets for in your recipes or celery and cucumber, this is the place to look for juicing substitutions.  Take a look at this chart for your options.  
Remember that just because you replace with one of these options it doesn't mean it will taste good.  You'll have to use good judgement and in some cases, move on to another recipe that you have the all ingredients for.  
apple Pear, grapes, cherries, blackberries, blueberries
arugula Spinach, kale, watercress
bananas  (if using a blender) yogurt, avocado, peach, mango, coconut meat or frozen coconut ice cubes
basil Parsley, cilantro, mint
beets Golden beets, red cabbage, tomato, radish
blueberries Blackberries, strawberries, raspberries, cherries
bok choy Kale, beet greens, dandelion greens
broccoli stalk Celery, cucumber, cauliflower
broccoli Cauliflower, green cabbage
butternut squash Pumpkin, carrot, sweet potato, acorn squash, spaghetti squash
cantaloupe Mango, papaya, peach
carrots Sweet potato/yam, winter squash, pumpkin, parsnip
celery Cucumber, zucchini, jicama
cherries Raspberries, strawberries, blackberries
cilantro Basil, parsley
coconut water Water, diluted fresh juice, sometimes apple juice
collard greens Mustard greens, kale, beet greens, dandelion greens
cranberries Cherries, raspberries, blueberries, strawberries
cucumber Celery, zucchini, jicama
dandelion greens Kale, mustard or collard greens, beet greens
fennel Celeriac root, kohlrabi, jicama, daikon, endive
ginger  turmeric root, lemon
grapefruit Another variety of grapefruit, clementine, orange, tangerine, lemon
green beans Asparagus, long bean, french bean
green cabbage Red/purple cabbage, kale, arugula, watercress, endive
green peppers Red or yellow peppers
honeydew melon Green grapes, cantaloupe, watermelon
jalapeno Serrano pepper, yellow wax pepper, chili pepper
kale Arugula, watercress, spinach, swiss chard, green cabbage, mustard greens,
collard greens, beet greens, turnip greens
kiwifruit Mango, orange, tangerine, lime 
lemon Ginger, lime
lime Lemon, orange, clementine, tangerine
mango Papaya, kiwifruit
mint Ginger, sweet basil
onion Garlic, leeks, shallot
orange Grapefruit, clementine, tangerine, kiwifruit, mango, papaya
oregano Sage
parsley Cilantro, kale, arugula
parsnips Turnip, parsley root, celeriac root, carrots
peaches Nectarines, plums
pear Apple, celery, peach, plum
pineapple Orange, grapefruit, mango
pomegranate Pineapple, strawberries
radish Red cabbage, tomato 
red/purple cabbage Green cabbage, radish, cauliflower, broccoli, radicchio
romaine Bib lettuce, radicchio, endive, boston lettuce, green or red leaf lettuce
spinach Kale, swiss chard, romaine lettuce
strawberries Raspberries, blackberries, cherries
summer squash Zucchini, cucumber
swiss chard Kale, spinach, romaine, mustard greens, collard greens, beet greens, turnip greens, green cabbage, arugula, watercress
tangerines Orange, grapefruit
thyme Rosemary
tomato Radish, red pepper, watermelon
watermelon Red grapefruit, cantaloupe, honeydew, tomato, radish
These juicing substitutions will most likely be great options for your smoothies, or even in your cooking recipes.  Happy juicing!
Return from juicing substitutions to juicing recipes