Orange juice recipes. Get away from the plain ol' OJ.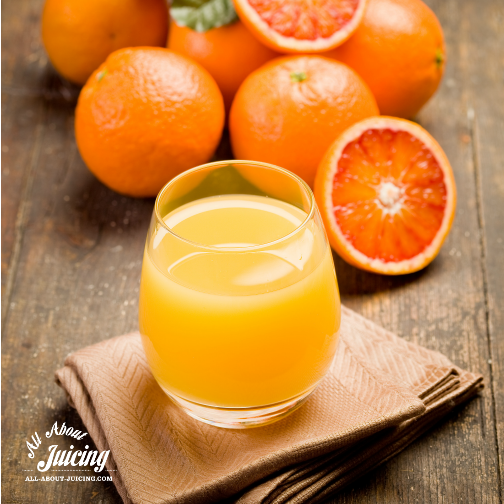 Fresh orange juice recipes are the best. There's nothing like it on the planet.  Great for breakfast or a juicy snack.
By law in the USA, juices in cartons must be pasteurized (heated) and when this happens, vitamins and minerals are depleted.
It's also been brought to light more recently that the juice contains flavor packets and sit in storage facilities for a long period of time. If you love orange juice, juice your own. It's safer and has many more health benefits.
Do not juice the rind of oranges in your orange juice recipes. They contain indigestible oils that can irritate the stomach. Peel first. I prefer to cut the peel off as I think it's quicker, but that's just my preference.
I love taking fresh OJ juiced with a small knob of ginger and pouring mineral water over top of it in a glass. So refreshing! But if you want some more ideas...just look below.

The benefits of orange juice recipes
Good source of Vitamin C, B1, folate, potassium, zinc, phosphorus
Aids in digestion
Clears up some skin problems
Will help protect you from colds, flu, bruising, heart disease and strokes because it helps to strengthen your immune system
Orange Lime Peach
1 orange
½ lime (with rind)
1 peach
Mineral water, optional

Peel the orange, and cut the lime. Core the peach. Juice together and pour into a glass. Add mineral water as desired and serve. 
A Glass of OJ
4 oranges

Peel the oranges and juice. Drink shortly after juicing, but orange is a juice that will keep well for a day if you need.
Pineapple Orange
2 cored rounds of pineapple
2 oranges

Peel the oranges. Core and remove the skin from the pineapple, and set aside 2 1 inch "rounds" Juice together and serve. 
Green Pineapple Orange
3 pineapple spears
3 lettuce leaves
1 orange

Core and skin the pineapple, set aside the spears. Peel the orange. Roll 3 lettuce leaves and insert them into the juicer alternating with the pineapple and orange, serve. 
Orange Apple Juice
3 oranges
1 apple 
small knob of ginger

Peel the oranges, and core the apple. Juice as usual and serve. 
Carrot Orange
3 carrots 
2 oranges

Remove the tops from the carrots, if necessary. Peel the oranges. Juice as usual and serve. This one packs some strong vitamin c punch.
Grapefruit Orange
2 grapefruits
1 orange

Peel both the oranges and grapefruit. Juice together and serve. 
Carrot Pepper Orange
2 carrots
1 red pepper
2 oranges

Peel the oranges and remove the stem from the pepper. Juice the carrots, pepper and oranges. Serve immediately. 
Cucumber Tomato Orange
1/2 cucumber
1 tomato
2 oranges

Peel the orange, and cut a cucumber and tomato in half. Juice as usual and serve immediately.
Return from Orange Juice Recipes to Juicing Recipes