How to make pumpkin juice

Did you know you can juice pumpkins and make pumpkin juice drinks?  You can!  They have a great neutral taste that go with many other fruits and vegetables.  So many people use the canned and cooked pumpkin for smoothies, but never think to juice it.  If you have some extra pumpkins lying around from the holidays give it a try.  It makes a great thanksgiving snack or brunch juice for your guests.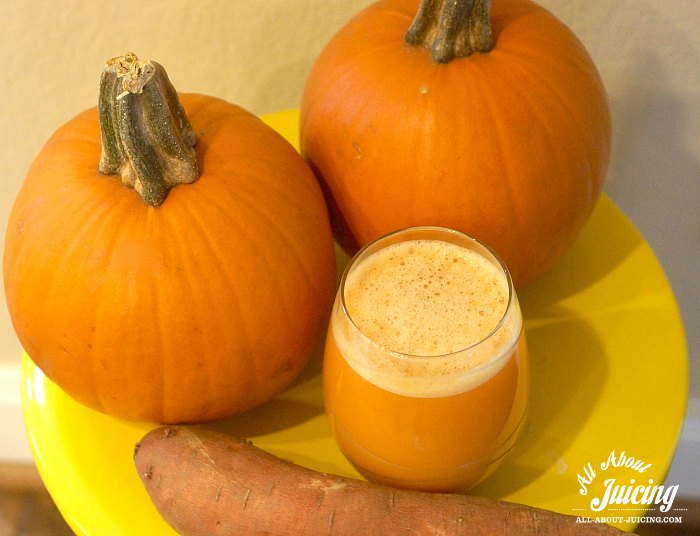 The benefits of pumpkin juice

Some people love pumpkin's flavor, others don't – but health-wise, its nutrients make it a valuable addition to the diet.  Pumpkin is a good source of B-complex vitamins, along with vitamins A, C and E, carotenoids (that's where the orange color comes from), calcium, copper, iron, magnesium, manganese, phosphorus, potassium, zinc and fiber.
Pumpkin's B-complex vitamins promote proper nervous system function.  They're also needed for healthy skin, eyes and hair, and they aid protein, fat and carbohydrate metabolism.
The carotenoids, manganese, zinc and vitamins A, C and E in pumpkin are antioxidants which can mitigate the oxidative damage that free radicals would otherwise cause.  Preliminary research indicates that by neutralizing free radicals, antioxidants may lower the risk of certain cancers.  Likewise, antioxidants facilitate detox and reduce the risk of cellular damage caused by chronic exposure to toxins.  Again, some scientists believe this activity can reduce the likelihood of some cancers.  Moreover, antioxidants also help prevent the oxidation of cholesterol (important because oxidized cholesterol is the type that forms plaque on artery walls, leading to atherosclerosis). Further research is needed to investigate these potential anti-cancer and cardiovascular benefits.
Besides being antioxidants, pumpkin's beta-carotene and vitamin A are essential for healthy eyes, good vision and a strong immune system.  They also promote healthy skin, bones and mucus membranes.
In addition to its role as pumpkin's most powerful antioxidant, vitamin C has several other beneficial properties.  Among other things, it's needed for healthy connective tissue, speeds wound healing, boosts resistance against colds and the flu, helps keep artery walls elastic (deterring atherosclerosis), and promotes dietary iron absorption.
The vitamin E in pumpkin is involved in immune function, cell signaling, regulation of gene expression, and other important metabolic processes.  Calcium is needed for proper muscle function and strong bones.  Copper supports the immune system, is important in red blood cell production, and helps maintain healthy blood vessels, nerves and bones.
Consuming pumpkin can boost your dietary iron, essential for hemoglobin synthesis and producing red blood cells.  Pumpkin's magnesium supports bone formation and regulates body temperature.
Manganese, also present in pumpkin, is important in bone formation.  It supports calcium absorption and is needed for a properly functioning nervous system.
The phosphorus in pumpkin supports renal function and healthy teeth and bones, while its potassium helps regulate heart rate and blood pressure, is essential for nerve conduction and muscle contraction, and is needed to keep the body's electrolytes in balance.  Pumpkin's fiber promotes digestive system health by regulating the bowels, possibly lowering the risk of colon cancer.  There is also evidence that fiber can help lower LDL ("bad") cholesterol levels and thereby benefit the cardiovascular system.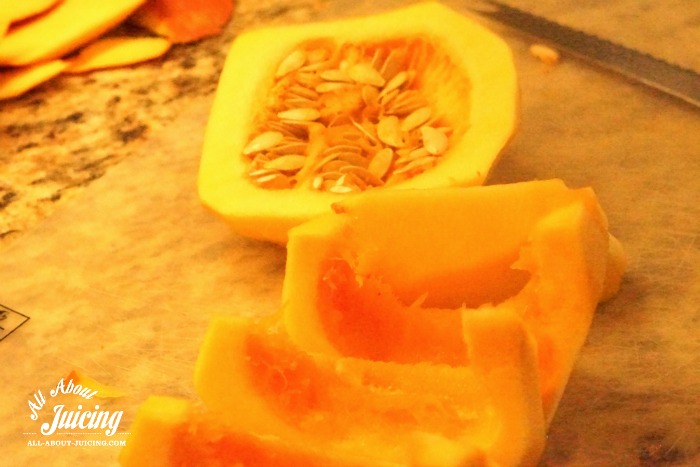 Pumpkin juicing tips

Use pie pumpkins or any pumpkin variety that can be eaten.


Always cut the rind off of the pumpkin before juicing.  The rind can damage your juicer.

Remove the pumpkin seeds from the center before juicing.

Pumpkins pair well with carrots, sweet potatoes, regular potatoes, citrus, pineapple, mango, apples, pears, squash, zucchini, kale, spinach and beets.

Pumpkins don't yield much juice, so when creating your own pumpkin juice recipe, you'll need to pair it with other juicy produce.

You'll need a strong knife to remove the rind and cut through the pumpkin.  A little knife won't cut it well and will cause you frustration.

Pumpkins should be juiced raw, just as all other produce is juiced raw.  Do not cook the pumpkin first.
Pumpkin juice recipes

Tropical pumpkin juice recipe

1 pie pumpkin

2 cups of pineapple

1 pear

2 sweet potatoes

Optional: 1 cup of kale
Prepare the pumpkin by removing the rind, cut it down the center and removing the seeds.  Then cut it lengthwise or into chunks.  Core the pear and pineapple.  Cut the sweet potatoes into long spears.  Juice the pumpkin, pineapple, pear, and sweet potatoes together, alternating.  Serve immediately. 
Carrot pumpkin spice juice

1 pie pumpkin

9 long carrots

2 apples

1 inch knob of ginger

Sprinkle of cinnamon
Prepare the pumpkin by removing the rind, cut it down the center and removing the seeds.  Then cut it lengthwise or into chunks.  Core the apple.  Juice the pumpkin, carrots, apples, and ginger together.  Pour into a glass. Sprinkle with cinnamon.  Serve immediately. 
Pumpkin green juice

Prepare the pumpkin by removing the rind, cut it down the center and removing the seeds.  Then cut it lengthwise or into chunks.  Core the apples.  Juice the pumpkin, carrots, zucchini, apples, carrots and kale/spinach together.  Serve.
Red pumpkin juice

1 pie pumpkin

2 beets

1 apple

6 carrots

handful of spinach
Prepare the pumpkin by removing the rind, cut it down the center and removing the seeds.  Then cut it lengthwise or into chunks.  Core the apple.  Cut the beets into wedges.  Juice the pumpkin, beets, apple, carrots and spinach together.  Serve immediately. 
Juice Recipes > Pumpkin Juice