Yonanas Banana Ice Cream Maker
Make the best banana ice cream and fruit sorbet with the Yonanas…
It's healthy, easy, raw and amazing!

This cool machine is the answer to the many questions I get on how you can make the frozen banana ice cream without a single gear juicer. Now, you can totally can. It's a banana ice cream maker and fruit sorbet maker in one…you could call it a healthy soft serve ice cream machine!
This machine will enable you to make sorbet without a special juicer. So if you have a centrifugal style juicer that you aren't ready to upgrade- this is for you.
The internal design is very similar to the internal design of a champion juicer (the best juicer for making banana whips, in my opinion).
You use it the same way you'd use a juicer with a blank plate. Simply freeze peeled bananas or your other favorite fruit.
Tip: After peeling super ripe bananas, wrap them in wax paper first, then store them in a large plastic baggie.
You turn on the machine and feed the frozen fruit through the feed chute. A creamy, smooth sorbet ejects out of the end into your bowl. It does a great job of making the banana whips.
The upside of the Yonana machine:
Its relatively inexpensive
Is a great addition to any healthy diet, especially raw foodists or vegans
You don't need to have a special juicer to make these anymore
Easy to clean for a fresh sweet snack
The only downside is that it's a little loud…but that's expected from a machine that has to process something frozen, it needs to be powerful.
I am so happy to have this machine and to recommend it to juicers that don't have the capability to make this with their current machine.
You will love to make healthy ice cream in a flash. Frozen bananas make the most creamy, milk-like, sweet ice cream ever.
Here are some pictures of my brother and I testing it out.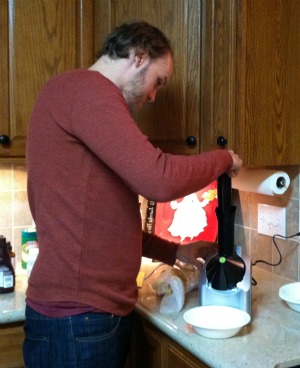 Not only did we use bananas, we added peaches and blueberries, just for fun.

I even added some chocolate and caramel syrup, as well as chopped up pineapple. It was so, so amazing.
Get the Yonanas machine. Even though I have the Champion, I just love that this petite machine is dedicated to just this. It's light, easy to clean, and quick.
It's a no brainer if you want to have healthy desserts. The options are endless…
A fantastic recipe book accompanies the machine for recipe ideas (like making an ice cream sandwich!)
You won't regret it, I love this! I even sold my brother on it, and he's no healthy eater.
Get this Healthy Ice Cream Maker at Amazon
Return from Yonanas to Banana Ice Cream with the Champion Juicer