The BEST Juicers
The best juicers with the lowest prices...

Quite often, I recieve questions on my opinion of the best juicers, from visitors just like you :) While it's semi-hard to do this, these are my top 5. There's probably about 10 that I really would recommend (most reviewed on this site). Consequently, these top 5 also rate highly for amazon customer reviews as well.
A lot of time searching and years of juicing have brought me to these conclusions. You can look at several of my recommendations below, or follow this link to the page with the widest range and the best deals on juicers.
Cheers!
P.S. If you have questions about a juicer or would like me to review a particular one, please ask on the FAQ page or contact mehere
Durable, Long Lasting & Versatile...

The Champion Juicer
The Champion is my *love* as this is my juicer. It is a single gear masticating juicer that can, in addition to making great juice, make nut butters, banana whips, baby food and more. Its a
heavy duty long lasting pick
for a juicer.
Click here for my review and more info on The Champion Juicer
Affordable, Stylish, Well-Designed...

Breville makes a great juicer. Both the JE900 and the BJE200XL compact are Italian engineered and designed, and functions well. Super cute and popular, these are your best bet's for a centrifugal juicer.

Breville JE900 Juice Fountain Juicer
Breville BJE200XL Compact Juice Fountain
Click here for my review and more info on The Breville Juice Fountain
Versatile, Good Quality, High Juice Yield...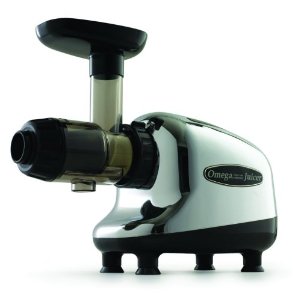 The Omega 8005 Juicer
The Omega's are great juicers.  They have been around for a long time and are time tested.  You can do so much with this juicer. Juice hard and soft produce(two juicing screens), homogenize to mince, grind nuts, spices, meats and frozen fruit.  This single gear <strong>has a high juice yield and turns at a low RPM for maximum nutrition.
Click here for my review and more info on The Omega Single Gear Juicer.

The Most Superior Juicer....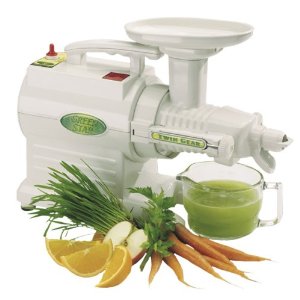 Green Star GS-1000 Juicer
Last but not least, the Green Star is simply AWESOME. This juicer can do all you imagine, including juice wheatgrass, all types of produce, and has food mill function to make nut butters, sorbets, baby food, pasta, breadsticks and more. It uses twin gear technology and bioceramic materials, operating at a low RPM to extract the best juice possible (max nutrition, high juice yield).
If you want the best, this would be your pick.
Click here for my review and more info on Green Star Juicers
Which juicer do you use?
Share it here!
What Other Visitors Have Said
Click below to see contributions from other visitors to this page...