Relieve pain with this tropical turmeric juice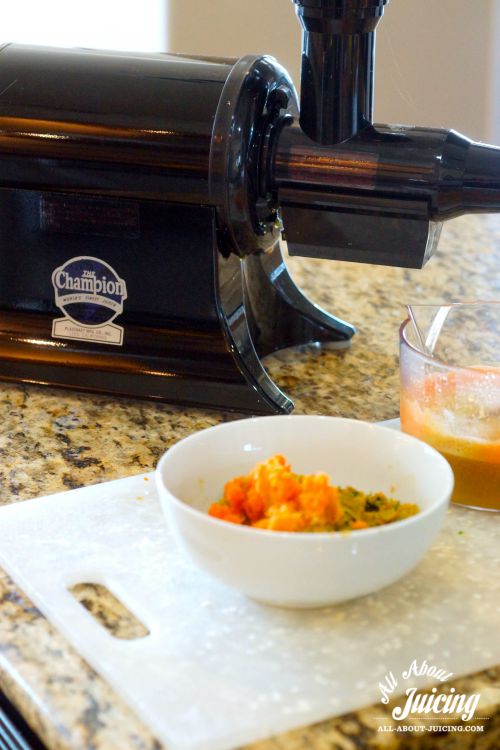 I have a great recipe for you today. My hope is that this will help you relieve pain with this tropical turmeric juice.  It's anti-inflammatory, helps to relieve pain and is very island-like (because who doesn't want to feel like they are on a sun-filled beach?).  
I've also added a creamy twist to make it special. You won't even notice its part green :)
I used my Champion Juicer to make this juice.  While I have a lot of juicers, you might know that I really love the Champion and it's the one I go back to over and over.
It was my first juicer and I still have it.   It's very durable and easy to clean.  
I find that when the same produce is juiced in the Champion side by side with other juicers, it often yields more juice.  
I recommend it because it's a good value for the money and juices at a low speed/temp to keep more nutrients in your cup.   
TROPICAL TURMERIC PAIN RELIEVER JUICE

INGREDIENTS

3 large carrots

4 rings of pineapple

2 celery stalks

1 head of romaine lettuce leaves

1-2 inches fresh turmeric root

Optional: 2 tbsp coconut milk

DIRECTIONS

Cut half of a pineapple into spears or rings.  It's fine to juice the rind and the core.  
Juice the carrots, celery, pineapple, romaine and turmeric together, alternating.  Mix with a spoon to combine and serve immediately.

Optional: Add the coconut milk to the recipe.  Coconut milk helps with the absorption of the turmeric. To optimize the healing powers of turmeric, you must take it with a little bit of fat.  Turmeric is fat-soluble, meaning it dissolves in fat. Without fat, the active component in turmeric, curcumin, has a harder time making it's way into the bloodstream.  If you'd like, you could also add a teaspoon of coconut oil, but I find this less appetizing.


WHY I LOVE THIS JUICE

Pineapple and turmeric are extremely anti-inflammatory.  Not all juices can successfully blend with the turmeric taste, but this one does.  Turmeric is an amazing spice, and you can learn more about  turmeric here.  It has curcumin in it, and multiple research studies have shown that curcumin's anti-inflammatory properties compare to those of ibuprofen, phenylbutazone and hydrocortisone. So yes, this juice might help with pain and headaches. As far as the other ingredients go, celery may help to calm nerves.  By adding in carrots and greens, it's a well rounded juice to nourish your body.  It's my tropical pain reliever in a cup :)


If you have some pain or inflammation give this a try.  I've love to know how it works for you.  After you've tried it, leave a comment below.