Why fresh juice? The health benefits of juicing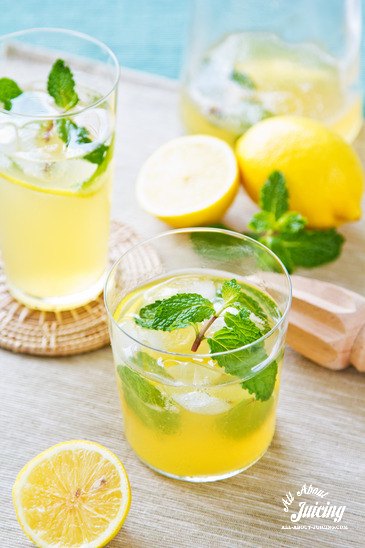 Why fresh juice?  If you've heard of juicing but just haven't started yet, I want to encourage you to start. Juicing is fantastic because it allows you to drink your fruits and vegetables in liquid form.
Quite simply, it's the easiest way to squeeze nutrition into your diet.  A nutritionally dense diet often leads to a healthier, happier body from the inside out.
Here are 6 reasons on why fresh juice is a smart habit.
1.  It's the easiest way to get nutrition into your diet. Drinking your veggies is much easier then eating them.  For example, you could eat a pound of carrots or you can drink them in a small glass. And if you hate greens, it's a great way to incorporate them into your diet without eating them.  Imagine how tired your jaws would be if you ate two or three pounds of raw carrots every day! Drinking a couple of glasses of freshly prepared carrot juice every day will give you the same health benefits but be much easier on you physically. Juicing is much less tiring and much more efficient than eating large quantities of raw vegetables every day.
2. Juicing helps your body absorb and metabolize all the beneficial nutrients in fresh produce. When you juice, the juicer breaks up the cells of the produce, separating it from the fibrous pulp. Liquids go into our bloodstream and body systems instantaneously because it doesn't need to export energy to digest the fiber. Our bodies absorb and assimilate food source vitamins very easily. Fresh juice nourishes our body with life-giving, vitamin rich, and easy to digest nutrition.
3. Freshly prepared juice has more nutrients and vitamins than its store bought bottled counterparts. Commercially drinks are pasteurized, and that means it's heated. When juice is heated, it kills mostly all of the nutritional value, including delicate enzymes. You also don't know what's in those bottled drinks.  You might be surprised to find out that there's sugar, coloring and chemicals lurking inside.
4. Food sources of vitamins are superior to supplements and powders.  If you're taking supplements, that's great, but it's not as good as the real thing. Juicing is fresh, raw and live nutrition. It's a fact that most people don't eat the recommended amount of fruits and vegetables each day. And you might be surprised to know that studies show many people are lacking nutrients.  Juicing fills that gap and makes it possible for those not eating enough raw produce to get much needed nutrition without added supplements. Our bodies were made to be fed pure raw food that contain these naturally occurring vitamins (many of which haven't even been discovered yet). 
5. Juicing can help us look and feel great.  When your body gets the nutrients it needs, miraculous things happen. Our organs absorb the nutrition and cleanses to heal, repair and nourish at the cellular level. You skin begins to glow, you gain more energy, you might lose weight or say bye to some of your health ailments.  Not a day goes by that I don't hear success stories from people who look and feel better than they did before they started a juicing regimen.
6. Juicing facilitates a more varied, interesting, nutritionally balanced diet. Many of us tend to eat only a few different fruits and veggies. For example, a lot of people don't branch out much farther than peas, green beans, lettuce and carrots as far as vegetables are concerned. They just don't enjoy eating any others. Juicing lets you enjoy a wide variety of veggies even though you don't like eating those same vegetables whole. Juicing a lot of different vegetables keeps you from becoming bored with the same old foods, and it gives you a more comprehensive, balanced blend of essential nutrients too.
If you want to get started, pick up a juicer and some fresh produce.  It's easier than you might think.
More on juicing basics
Return from Why Fresh Juice to All About Juicing Home