Carrot Juice Recipes
The mighty carrot is a must-have juicing ingredient for it's taste, nourishment and healing properties
Carrot juice recipes are simply wonderful. If you've never had it before, you'll be surprised how sweet it is. It tastes NOTHING like you think it will taste. Its sweet, creamy and delicious. It has a milky texture and has no bitterness.
It's one of the best vegetable juicing recipes you can make and should always be part of any juicing program you're on.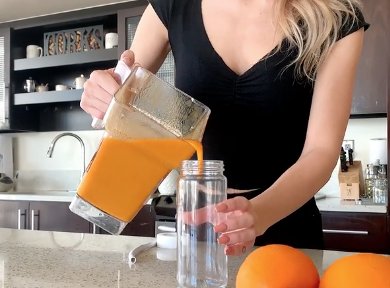 Carrots are very versatile
Carrot juice pairs well with almost any other produce for juicing.  In fact, it's one of the juicing ingredients that can be combined with other ingredients safely causing no digestive or food combing issues.  It combines well with apples, tomatoes, greens and almost any vegetable or fruit. It is one of those versatile vegetables that are terrific for juicing and a staple in many kitchens.
Benefits of carrot juice
Carrot juice is most known for delivering a hefty amount of vitamin A, C, calcium among other necessary vitamins. Specifically they are rich in beta-carotene, folic acid, C, small amounts of B1, B2, B3, B5, B6, biotin and E. They have calcium, chlorine, magnesium, phosphorus, potassium, sodium, sulphur, small amounts of copper, iron and zinc.
Drink it for healthy skin, eyes and for good bone density. It helps to purify and feed nutrients to your cells and many people who are sick with cancer and other terminal illnesses juice a good amount for its potent healing properties. If it isn't already, I highly recommend making carrot juice recipes a regular staple in your home.
How to juice carrot juice recipes
Juicing carrot juice is quite simple. Clean and prep the carrots, and remove the tops. Tops to carrots can be toxic.
If the carrots are very wide or long, you may want to cut them in half to prep them for your juicer. But most people just leave them as is and feed them through their juicer. It is one of the simplest pieces of produce to juice just because of its long shape. Once you've processed the juice through your juicer, it's ready to consume.
If you don't want a specific recipe but want to add something to your juice, add an apple for a sweeter juice or a tomato for a garden blend.

Recipe for plain Carrot Juice 
6-8 carrots will give you a nice glass. Juice as usual and serve. Don't forget to remove the tops! 
Carrot Parsley Juice
6 carrots
5 sprigs of parsley
Juice as usual. Serve immediately. Good for energy! 
Carrot Apple with Greens
4 carrots
1 apple
4 lettuce leaves
¾ cup of string beans

Core the apple and juice the carrots, lettuce and string beans. Serve immediately. 
Classic Carrot Apple
5 carrots
2 apples

Core the apples and juice the carrots. Serve immediately. 
Carrot Beet Spinach
4 carrots
1 beet (with greens) 
Small handful of spinach

Juice the carrots, beets (and greens if you want to), and spinach. Serve.
Carrot Bell Pepper
4 carrots
2 strips of bell red pepper
Tiny handful of parsley

Juice the carrots, bell pepper, parsely and serve. 
Carrot Apple Ginger
5 carrots
1 apple
½ inch knob of ginger

Core the apple and juice together. I love this combo. 
Classic Carrot Orange Juice
4 carrots
3 oranges

Peel the oranges and juice with the carrots. Serve. 
Carrot Pear Fennel
½ pear
4 carrots
3 fennel stalks
1 celery stalk

Core the pear. Juice the pear, carrost, fennel and celery. Serve. 
Carrot Tomato Juice
5 carrots
2 tomatoes

Juice the tomato with the carrots. Serve. Simple but yummy!

You might also like
Try my carrot cake juice recipe
Return from Carrot Juice Recipes to Juicing Recipes