Recipes using juicer pulp
After you make a few of these recipes using juicer pulp leftovers, you'll come up with your own from scratch! Be creative!
Some people choose to use pulp in recipes, and some rather not. I think its a great way to utilize the whole fruit and vegetable so that nothing goes to waste.
Scroll down to see sweets, starters, and main meal recipes using juicer pulp. Feel free to add your own recipe at the bottom of the page :)
Follow this link if you are looking for different ways to use your juicer pulp

A note about recipes using juicer pulp:
I have found that recipes using juicer pulp work well when you take your own traditional recipes and modify them to include pulp.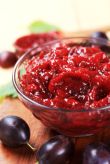 For example, if a cake or muffin calls for chopped up apples, just replace the chopped up fruit with pulp. This holds true for many dip recipes too. Substitute some of the veggies for veggie pulp.
You just have to keep in mind that pulp without the juice is super dense...so your recipes might turn out a bit heavier and make you full really quick. It's because pulp is all fiber!
Saving pulp:
Don't throw it away! Are there times where you want to use the pulp, just not right after you juice? If you aren't going to use it within a few hours, freeze it. It will last a while if you freeze the pulp. You can let it thaw out on the counter on the day you want to use it.
Fruit Sauce Recipe
Take one cup of pulp from any sweet fruit.

Blend together with 2 teaspoons of honey or organic maple syrup. 
Serve on toast, pancakes or over ice cream. 
Fruit Leathers
Use the same recipe for fruit leathers as the fruit sauce. Spread strips of fruit sauce onto wax paper. Depending on the consistency desired, water might need to be added. Place in the dehydrator and let dehydrate until desired texture. 
Grapefruit Pineapple Fruit Topping
Use this topping on pancakes, waffles, sorbets and ice cream! 

1/2 cups of pineapple pulp
1/3 cup of grapefruit pulp
1 tablespoon of honey
1 tsp of lemon zest

Mix all ingredients and chill. Serve as a topping! 
Pulp Ice Cream/Sorbet
My favorite of the recipes using juicer pulp. Take 3 cups of pulp from any sweet fruit. Peaches, pineapples, pear, apples and berries all work well. 
Freeze in an ice cube tray. When frozen, mix in a blender with 4 ripe bananas until it is the consistency of sorbet. Serve immediately. 
Banana Carrot Cake
2 cups of self rising whole wheat flour
1 cup of soft brown sugar
1/2 cup of sunflower oil
2 eggs beaten
2 large bananas, peeled and mashed
5oz of carrots, finely grated
Pulp from 8oz of carrots
1 oz of walnuts, chopped

Grease a 7 inch round cake pan and line with wax paper. 
Sift the flour into a bowl. Stir in the remaining ingredients and beat together until will mixed. 
Spoon the mixture into the pan. 
bake in a pre-heated oven at 300F for 1 1/2 hours, until well-risen and golden brown. 
Cool for 30 minutes and turn out on wire rack. 
Yummy!!! 
Applesauce
2 cups of apple pulp
2 cups of water
2 cups of apple juice
3 tbsp of honey
1/2 tsp ground cinnamon
1/2 ground nutmeg 

Bring all ingredients except the honey and spices to a boil in a saucepan. Simmer for 20 minutes until thick. Stir in honey and spices. Enjoy! 

An easier applesauce would be to take 3 cups of apple pulp and mix it with a few tablespoons of berry pulp. Add a tablespoon of honey if you like it sweet. 
Salsa
1 cup of pulp from a veggie juice consisting of tomatoes, carrots, celery and cucumber.
2 chopped tomatoes
1 clove of garlic, finely chopped
3 tbsp of olive oil
a few sprigs of parsley, chopped
2 tbsp of lemon or lime juice

Mix all of these ingredients together and serve. 
extra: Mix in a chopped up avocado for a guac version. 
Carrot and Orange Soup
1 tbsp of butter
1 onion, chopped
1 pd of carrots, thinly sliced
1 1/4 pint of vegetable stock
1 tsp of cilantro
1 orange, juice and pulp
sea salt and black pepper

Melt butter in the pan. Add onion and carrots and stir. Cook for 5 minutes. 
Stir in the remaining ingredients, cover the pan and cook for 30 minutes. 
Allow the soup to cool slightly. Puree in a blender or food processor. 
Return to the pan and reheat gently. yum! 
Tomato Veggie Dip
1 cup of tomato pulp
1/3 cup of onion, chopped tiny
1 carrot, grated
1/4 cup of horseradish
1 tsp of parsley
1 cup of plain yogurt
1 tbsp of braggs amino acids

Mix all ingredients in a bowl and chill. Serve with raw veggies.
Brown Rice Salad
1 1/2 cups of brown rice
1 tbsp of olive oil
2 tbsp of apple cider vinegar
1 clove of garlic, crushed
1 tbsp of fresh thyme, chopped
3/4 cup of grated parmesan cheese
2 cups of mushrooms, sliced
8 spring onions, finely chopped
2 celery sticks, thinly sliced
Pulp from 8oz of pineapple
Pulp from 4 peaches
salt and pepper

Cook the rice in a large pan of salted water for 20 minutes until done(using leftovers is good for this). Rinse, drain and cool. 
Beat the oil, vinegar, garlic and thyme to make a dressing. 
Place all the remaining ingredients in a bowl. Add rice and dressing- mix throughly. 
Let it stand for 30 minutes then serve.
Red Cabbage and Apple Salad
1 small red cabbage, finely shredded
2 green apples, cored and sliced
1 cup of golden raisins
Pulp from 4 apples
2 tbsp of fresh apple juice
2/3 cup of plain yogurt
1 tbsp of olive oil
Sea salt and pepper

Place all ingredients in a large bowl and mix to combine. Makes accompaniment to any meal, but I like it alone! 
Carrot Burgers
1 1/2 cup of ground turkey, chicken or beef
1 onion chopped
4 oz of carrots, coursely grated
pulp from 12oz of carrots
1 cup of cheddar cheese
1 egg, beaten
2 tbsp parsley, chopped
2 tbsp of thyme, chopped
sea salt and pepper

Place all ingredients in a bowl and mix to combine. Form the mixture into 6 burgers and brush with a little oil. 
Grill or pan fry the burgers under medium heat for 15-20 minutes until done.
Veggie Quiche
1 cup of veggie pulp (tomato, carrot, anything!)
1/2 onion chopped
1 carrot, grated
1/2 tsp of garlic powder
1 cup of cheddar cheese (optional)
4 organic eggs, beaten
2 tbsp parsley, chopped
1 1/2 cups of milk
sea salt and pepper to taste
1 unbaked whole wheat pie shell 

Place all ingredients (except the pie shell) in a bowl and mix to combine. Pour into pie shell. 
Bake in oven at 375 degrees for 40 minutes. 
Done with recipes using juicer pulp? Take a look at juicer pulp use ideas
Vegetable juice recipes
Fruit juice recipes
Citrus juice recipes
Green juice recipes
Make banana whips with your juicer