Real V8 Juice Recipe

Do you need a good V8 juice recipe?  I've got you covered with this homemade, natural juice combo.  It's the real deal.  For years now people have been asking me to put together a real V8 juice recipe-one that tastes similar to the bottled version because they wouldn't dare drink the bottled stuff, of course.  I finally did. 
I tried a few veggie combinations, and while my recipe doesn't exactly contain 8 ingredients, it does really taste like the traditional V8 juice recipe. 
But first, I think you know why you shouldn't drink the bottled V8 juice, but just in case you needed a reminder, here's why.
It's pasteurized.  All juices on the shelves are pasteurized a.k.a. heated, and when you heat your juice it kills essential enzymes and nutrients, which defeats the purpose of having it.
It has "flavoring."  We don't really know what that is, but it could be a mix of chemicals, or natural substances to make it taste like they intend.  It could contain MSG or other things that are not good for your body.
It is not organic.  Organic and non-GMO produce is really important.  Eating produce grown from a genetically modified seed and sprayed with toxic pesticides is bad news.
It's loaded with sodium (they add salt).  Excess sodium in your diet can cause high blood pressure, water retention and hypertension.  It's best to keep it low.  So why do they add it?  I believe its because it doesn't taste good on it's own, so it's a secret way to enhance the flavor.  Celery adds a natural sodium to this juice that makes it nice and salty tasting without the dangers of added white table salt.
It's from concentrate and reconstituted.  Do I really need to say anything about this?  :)
They add citric acid, potassium chloride, magnesium and vitamin C.  Citric acid is a flavor enhancer and preservative. Potassium chloride is a preservative.  I steer clear of these at all costs. I would venture to say that vitamins are added so they can say that it has more nutrients.  Synthetic vitamins that are made in a lab and that don't come from real food are sub-par to food vitamins and aren't absorbed by the body very well.
The bottom line- there are things in this I would never touch.  We just don't know all the details of the ingredients and some things are unnecessarily added.  It's always better to juice your own then buy any juice off of the shelf. 
When you juice your own, you don't have to add flavoring, preservatives, sodium or nutrients because it tastes great on it's own.  You'll be getting all the goodness of what you juice, including the delicate enzymes.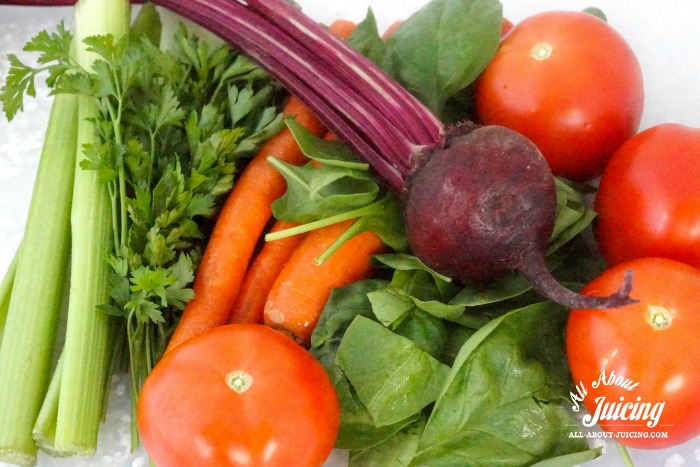 A Real V8 Juice Recipe

This makes enough for 2 glasses of juice or one large glass (16 ounces)
INGREDIENTS
5 tomatoes
1 beet (greens optional, but I left them out), cut in wedges
4 long carrots
1 bunch of spinach, equal to 2 cups
5 celery stalks
1 small bunch of parsley, about ¼ cup
METHOD
Prepare the tomatoes and beet by cutting them in wedges.  Cut the carrots and celery into 3-inch pieces.  Juice the tomatoes, beet, spinach, celery, carrots and parsley, alternating.   Mix to combine.  Serve immediately.
Variations and enhancements on the V8 juice recipe

Like it salty-er?  Add more celery.
Like it mostly tomato based?  Add more tomatoes.
Want more greens? A handful of lettuce or watercress won't change the taste too much.
Add black pepper for a kick.
Add a lime wedge to the recipe or to the glass.
Add a dash of cayenne pepper or hot sauce for heat and health benefits.
I know you are going to love this real V8 juice recipe!  Give it a try.  Let me know in the comments below what you thought about it.
Juice Recipes > V8 Juice Recipe