Homemade Baby Food Recipes
....with your Juicer!

Make homemade and healthy baby food with your juicer! When you make your own, you can be sure that it is pure, fresh, and has all the nutrients sealed in the way it was meant to be. It is the best quality you can have.
Making homemade baby food is becoming more common these days.
Making it in bulk can really end up being a time saver, as well as money saver.
Your juicer can help you out in this area (didn't I tell you they were versatile). There are two good options. You can make the juices, or homogenize solid whole foods into the puree consistency. To homogenize the solid food, you'll need a single gear or twin gear juicer. The Vitamix can also make baby food easily.

Follow this link to learn more about the Vitamix high powered blender

Tip: Make it in bulk ahead of time. I once knew a woman who would pour the food into ice cubes, and pull them out and gently reheat (microwave not recommended) before using. You could let it thaw on the counter, too. Just remember that heating can destroy some important nutrients, so try to thaw and reheat at a low temp.

Some notes on making solid baby food with your juicer…
Wash fruit thoroughly before processing. Always try to buy organic for your children. When using fresh apricots or peaches, be sure to remove the skin as it hard for babies to digest and they can jam your machine.
Remove all skin, seeds, strings and stems before lightly steaming for 10 to 15 minutes. Prepare your juicer for the homogenizing function, most times this means replacing the blank plate for the mesh plate. A blank plate is a part of a juicer that can be replaced with a juicing screen. (it is only on certain types of gear juicers, like the champion)
Take any of these recipes and after steaming (if necessary), process through the machine. Be creative when making combinations.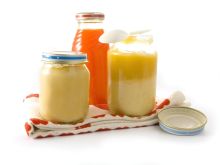 Recipes…
Banana-Pineapple. These do not need to be steamed before mashed. Mash three firm bananas and juice 7 spears of pineapple. Mix pulp with the mashed bananas, yields about 1 cup.
Applesauce. Steam 3 medium red apples that have been skinned and seeded. Run through the machine and add just a sprinkle of cinnamon. Yields 1 cup.
Bananas. Mash 2 to 3 firm bananas or process through juicer for a finer consistency. You can serve this alone or mix it with pulp produced by making juices. Yields 1 cup.
Pearsauce. Steam 2 medium pears that have been skinned and seeded. Run through the juicer and add some cinnamon if desired. Yields 1 cup
Green Beans. String beans before steaming. Steam for 15 minutes. Add 1 or 2 tablespoons of water if beans come out dry. 1 pound of beans yields 1 cup
Carrots. Three carrots yield 1 cup. No need to steam unless you'd like. Just process through juicer.
Peas. Better for children 1 to 2 years old (younger children have trouble digesting them). Depod peas when preparing. No need to steam.
Squash. 4 zucchini or 4 yellow squash yield 1 ½ cups.
Sweet potato. Steam potatoes 20 to 25 minutes. 1 large potato yields 1 cup.
Beets. 4 peeled beets yield 2 cups. Add some pineapple or apple to sweeten.
Eventhough many of these recipes say to steam, you really can just run any raw fruit or veggie through the juicer and it will make a super healthy baby food. You don't really need to steam(unless its a potato), just some people prefer because they believe that babies digest the food better- its the typical more traditional way of making baby food.
But if you don't steam apples and just run them though the juicer, it's really no big deal....In the end, I think raw is always better.

What's Your Question Or Comment About Making Baby Food?
Do you have a comment, question or tip about making baby food with your juicer? There's no hassle or registration to contibute- Everyones invited.

You can also scroll down to comment on what other readers have shared. Share it to help and be helped!
What Other Visitors Have Said
Click below to see contributions from other visitors to this page...

More on juicing...
The best juicers
Juicing for children
Fruit juice recipes
Juicer pulp recipes

Return from Juicer Baby Food Recipes to Juicer Recipes