The Fabulously Famous Mean Green Recipe
Are you looking for the mean green recipe joe cross used in his movie Fat, Sick and Nearly Dead?

Are you doing a reboot juice fast just like he did in the movie?
Then you'll need the green juice recipe he used. While a green juice powder are okay, nothing beats this green juice recipe.  This recipe will provide you will a well rounded vitamin and nutrient content and is great to use in any juice fast. It is one of the top green juice recipes.
The reason why this recipe is so great is because you are getting in a good amount of greens (kale, celery, and cucumber) and it tastes good. The lemon and ginger not only provide awesome vitamins and healing properties, but it hides the taste of the kale to make it enjoyable.
Here are some of the fantastic characteristics of the veggies in this juice: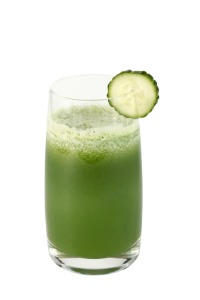 Cucumbers: Cucumbers are One of nature's best diuretic's. They help your body safely expel toxins that build up in your system. It also is used for acne problems and other skin issues, due to its detoxifying properties. They have a high water content and help to thin out thicker juice.
Lemon: Fantastic for cleaning the kidney. They have a good source of vitamin C.

Ginger: Ginger has shown to have some great anti-inflammatory properties, gives energy, and really can spice up the taste of any juice. It acts as an expectorant, and cleans the sinus cavities of mucus and the lungs of phlegm.
Apple: Among many nutrients, apples contain pectin which remains in the juice. Research has shown that pectin's work with other vitamins to carry out cholesterol from the blood.
Kale: Excellent blood cleaner. Kale is a great aid for heart and cholesterol problems. It also has one of the greatest sources of calcium. Mixed with pineapple juice, it's pretty yummy.
Celery: Celery is a diuretic and helps joints, arthritis & inflammation. Celery is beneficial for cleaning the body of carbon dioxide and of built up deposits that accumulate in joints.
Here is the Mean Green Recipe:

Mean Green Juice Recipe
This makes about enough mean green juice for two people, or enough for a super large glass.
1 cucumber
1 good bunch of kale greens
4 celery stalks
1/2 lemon (rind ok)
one small knob (about ½ inch or less) of fresh ginger root
2 granny smith apples (gala is good too)


Cut the cucumber into spears. Cut a lemon in half, peel is okay. Core the apples if your juicer needs. Juice the cucumber, kale, celery, lemon, ginger and apples. Serve immediately. Will keep for a few hours if needed, but it's always best to drink it right away.

Shopping list for the mean green recipe:
To make one recipe of mean green, you'll have to buy:
1 cucumber

1 bag of celery

1 lemon

Fresh ginger

2 granny smith apples
1 bunch of kale 
If you're planning on make it once a day for a week (7 days) you'll need to buy:
14 apples

4 bags of celery

4 lemons

A large piece of ginger

7 cucumbers
4-6 bunches of kale
Joe cross did his juice fast for 60 days, but you can do one thats shorter. This recipe is a great one to have on hand for any juicing program or if you're just juicing for health. 
Here's some links that will help you get started on a juice fast or learn more about fasting in general. 
All About Juice Fasting
How To Juice Fast
Juice Fast Side Effects and Detox Symptoms
Juice Fast Diet Common Questions
Juice Fasting Recipes
One to Three Day Juice Fast
Green Juice Fast

Return from Mean Green Recipe to Juicer Recipes