Juicer Pulp Muffins Recipes
Pulp muffins are probably the most popular way that people like to use their leftover pulp after juicing. And if you're doing any type of juicing program, you'll get a lot of pulp.  The pulp does enhance flavor and add fiber, but too much can make a really dense and heavy muffin so be sure not to use too much. It's an alternative to using the whole fruit, and nothing goes to waste.
While not as famous as juicer pulp muffins, salsa, burgers and cookies are also a great way to utilize your leftovers… be sure to check out those recipes too (when you are done making your muffins, of course :)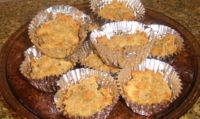 Tips and notes for making good pulp muffins:

1) Try not to add too much pulp. Try out one of these recipes and if you think it can handle more, use more the next time. Too much pulp can seriously ruin your muffin.

2) Generally, plain apple pulp from apple juice always works the best. In part to its applesauce consistency, and in part to the moistness and flavor it provides. Even if you are making a coffee cake muffin, you usually cannot tell when you use apple pulp.

3) Carrot pulp, berry pulp and other fruit pulp can be added to any general recipe, but the muffin will take on the flavor of that pulp.

4) Don't think you just have to use fruity pulp from fruit juice recipes to make muffins. Savory muffins, like the recipe I list below, can be made with any vegetable pulp you have on hand.
5) Feel free to save leftover pulp in the freezer for a few days but fresh is always best.

6) Modifying your own muffin recipes: A muffin always tends to taste better if you add in diced fruit and pulp. If you are making apple muffins, for example, adding a few diced apples in with the pulp in the recipe make it more tasty.

7) If you have a muffin recipe of your own that you like, add in ¼ cup of pulp of your choice and the recipe will usually come out wonderfully, with no problems.. It might make the batter less fluffy, but it does work.


Related Pulp Recipes

Juicer Pulp Uses & Ideas
Juicer Pulp Salsas
Juicer Pulp Burgers
Juicer Pulp Cookies
Juicer Pulp Salads & Dressing Recipes
Carrot Pulp Recipes
General Pulp Recipes (applesauce, fruit sauce, fruit leathers, quiches)